Academics
Academics at Hawthorne
Subject area content at Hawthorne is grounded in the Common Core State Standards (CCSS).
Common Core is a real-world approach to learning and teaching. Developed by education experts, these K-12 learning standards go deeper into key concepts in math and English language arts. The standards require a practical, real-life application of knowledge that prepares Washington students for success in college, work, and life.
English Language Arts
ELA: Hawthorne uses the Center for the Collaborative Classroom (CCC) K-5 literacy curriculum. This differentiated reading and writing instruction supports students' literacy development from foundational skills to essay authorship and book clubs. Adopted in 2017 by Seattle Public Schools, CCC integrates social and emotional learning with literacy.
---
Mathematics
Math: Math instruction is rooted in the Common Core's 8 mathematical practice standards. These standards are a guide to creating more complex and engaging learning experiences that can be applied to everyday life:
Make sense of problems and persevere in solving them.
Reason abstractly and quantitatively.
Construct viable arguments and critique the reasoning of others.
Model with mathematics.
Use appropriate tools strategically.
Attend to precision.
Look for and make use of structure.
Look for and express regularity in repeated reasoning.
---
Science
Science: The newly adoption Seattle Public Schools K-5 science curriculum is Amplify Science. Amplify is based in the Next Generation Science Standards (NGSS). Amplify Science's instructional model allows students to access their prior knowledge and to connect past learning experiences to the present. Students have the opportunity to ask questions and define problems about the natural and designed world, design investigations in which they collect and analyze trends and patterns in their data, engage in argument form evidence in both writing and through discourse with their peers, develop conceptual scientific models of physical phenomena, and to communicate their findings from their investigations. The units by grade are:
Kindergarten- Needs of Plants and Animals: Milkweed and Monarchs, Pushes and Pulls: Designing a Pinball Machine, and Sunlight and Weather: Solving Playground Problems
1st Grade- Animal and Plant Defenses: Spikes, Shells, and Camouflage, Light and Sound: Puppet-Theater Engineers, and Spinning Earth: Investigating Patterns in the Sky
2nd Grade – Plant and Animal Relationships: Investigating Systems in a Bengali Forest, Properties of Materials: Designing Glue, and Changing Landforms: The Disappearing Cliff
3rd Grade – Balancing Forces: Investigating Floating Trains, Environments and Survival: Snails, Robots, and Biomimicry, and Weather and Climate: Establishing an Orangutan Reserve
4th Grade – Energy Conversions: Blackout in Ergstown, Earth's Features: Mystery in Desert Rocks Canyon, and Waves, Energy, and Information: Investigating How Dolphins Communicate
5thGrade – Patterns of Earth and Sky: Analyzing Stars on Ancient Artifacts, Modeling Matter: The Chemistry of Food, and Ecosystem Restoration: Matter and Energy in a Rain Forest
---
Visual Arts
All Hawthorne students receive weekly instruction in the visual arts throughout the school year.
Students learn to express themselves through art while also developing foundational art skills. Through a range of projects and activities, K-5 students increase their fine motor skills, utilize critical thinking skills to analyze and interpret works of art, increase their ability to persevere through challenges, and develop a growth mindset as they work to build their artistic skills.
---
Music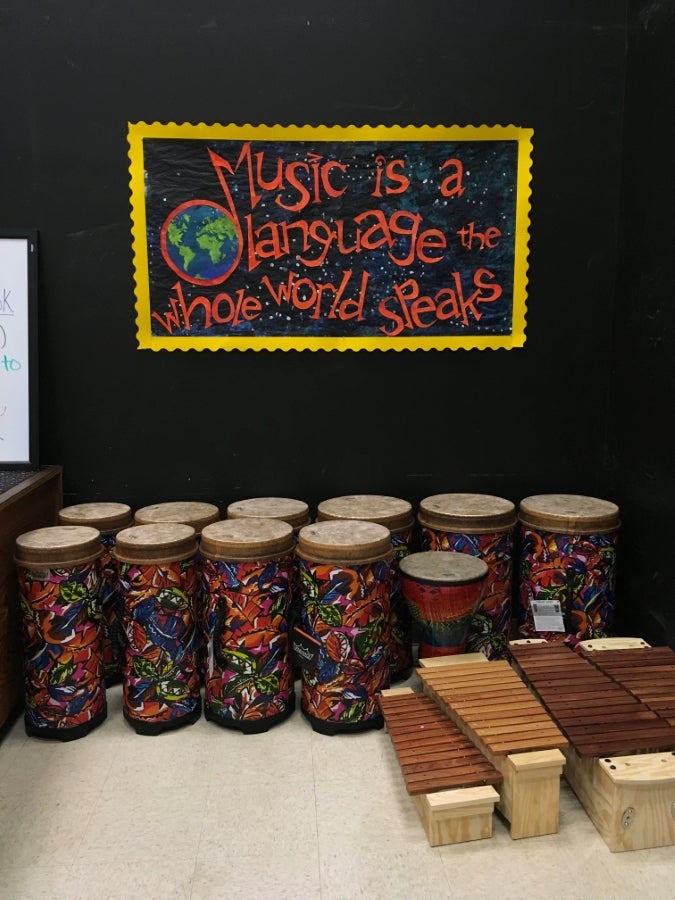 All Hawthorne students receive weekly instruction in music throughout the school year.
Our music program focuses on learning skills as well as building community within each classroom where students can work together to create something beautiful. Students will sing songs and play instruments from a wide range of different cultures and time periods.
---
Physical Education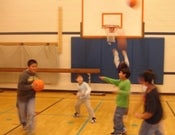 The Hawthorne P.E. Program is success-oriented with emphasis on skill-building, small and large groups activities, and the creation of a safe, cooperative environment. Too often, children are turned off to physical activities because they are thrown into large games with under-developed skills. They may not be successful and will seek to avoid repeat experiences.
With this in mind, the P.E. Program at Hawthorne offers a wide range of activities for students: juggling, roller skating, unicycling, throwing/catching skills, breakdancing and much more. Third through fifth graders also track their improvements and achievements in their own P.E. portfolio over the year's course. Tracking helps them set and achieve goals throughout the year.
Remember, at Hawthorne, Fun and Fitness go together!